Student Travel Registry
Register Your Trip
First time users
Proceed to Register a New Trip below. A user account will be created for you during the trip registration process.
Returning users
If you already have an account in M-Compass, login and view your User Home page. If your trip is not shown, proceed to Register a New Trip below.
Example Trip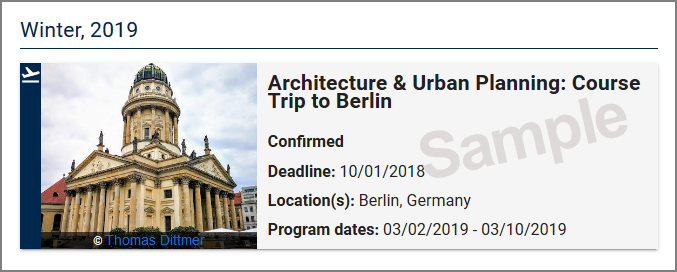 Register a new trip
Click the button that best describes your trip, then click the UM LOGIN button. Enter your UM Uniqname and Kerberos password when prompted, then complete the registration form for your trip.
What is considered U-M Related Travel? U-M Related Travel meets at least 1 of the following:
Receiving U-M funding - research/grant funds, scholarships, financial aid
Necessary for degree requirements - field research, presenting research, dissertation research
In-residence credit
U-M organized - study abroad, internship, volunteering
What is considered Non U-M Related Travel?
Vacation
Personal Travel
Independently arranged trips that don't meet any U-M Related Travel criteria
Still unsure? Refer to the What is U-M Related Travel document for additional details or contact umich-itoc@umich.edu.
The Student Travel Registry is a secure system for U-M students to record travel plans and enter trip emergency contact information.
Help & Contact
To complete or edit an existing registration, please use these
step-by-step instructions for accessing and editing your travel registrations
. Need help? Have Questions? Email
global.engagement@umich.edu
for assistance.